< Back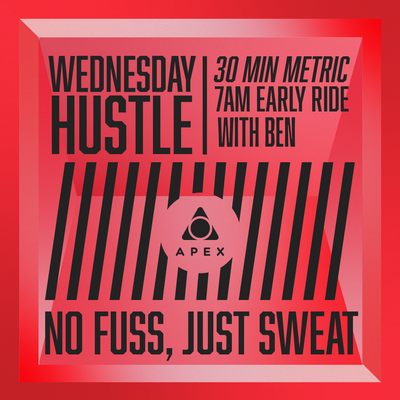 Wednesday Hustle - Your Mid-Week Pick-Me-Up
Maddy Slade | 5 Apr 2022
Hey A-Team!
It's officially spring, and although that usually means we're out enjoying the warmer weather and lighter nights, mother nature's thrown us a bit of a curveball this time round...snow in April, who would have thought?!
We know how much the weather can affect our motivation to get up and get moving on the bike, and that's why we thought we'd sit down with Apex instructor Ben to find out a bit more about his Wednesday Hustle Rides, and why they're the perfect tool for you to reinvigorate your week and feel those positive vibes again.

What is Wednesday Hustle all about?
Letting loose on the bike but fighting for it! Sometimes in life you gotta hustle for what you want and on Wednesdays we do whatever it takes!!!
How can riders expect to leave post-class?
Like you've been in an ice bath! Invigorated with a juicy shot of endorphins! We are gonna have a good time, it ain't serious but we leave everything on the bike, I want you totally spent! So when you hope off you are feeling as high as a kite and fearless!
Do you have any tips for riders who want to work on their form?
There are many elements to keep form consistent. Correct bike set up. Correct bodyweight placement in or out the saddle. What helped me personally keep length in my spine, which is key throughout rides, was focusing on my breath. I talk about this a lot. By controlling my breath pattern (long lateral inhales and long directional exhales) I stay connected to my core which in turn supports predominantly the lower back. Think of your centre as your anchor, giving you strength and support! 
How do you stay motivated to keep getting up and getting on the bike?
The bike is therapy for me. It's me time. I think it's so important to put time aside to clear your head out. Some people meditate, I ride.
Any tips on getting through that mid-week slump?
Join my Wednesday Hustle! It's my favourite day to ride, deep in the grind of your week, just when you might be in need of a pick me up and a reset!
What track motivates you most?
One track? I have to choose one track? I couldn't possibly. That's like choosing a favourite child! On the whole I think I'm lyrically driven but a filthy, I mean gutter filth beat will get me going, something like Alesso's 'Tear Up The Roof'!
So there you have it team, it's really a no-brainer! Hop on your bike this Wednesday at 7am and join Ben in his Wednesday Hustle Ride. We guarantee you'll feel better for it. We'll see you on the bike!