< Back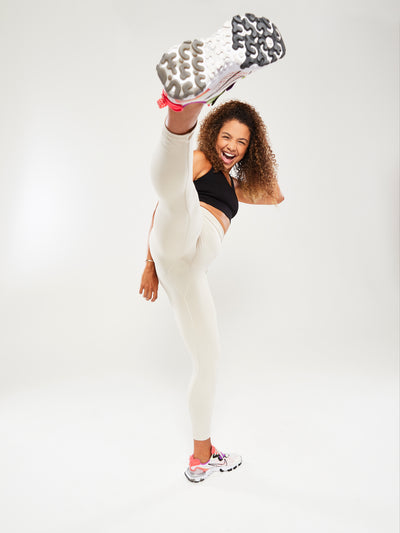 The Importance of Good Quality Workout Gear
Maddy Slade | 6 Sep 2021
The importance of having good quality kit when you're exercising can't be underestimated. Although you could technically workout in a t-shirt and some old shorts or leggings, you won't be maximising the benefits of your workouts, and, more importantly, you could be risking injury. Your workout clothes should help you achieve the results you're looking for, not hold you back.
Many sports injuries are due to a lack of proper equipment, and this includes your clothes - it's not just about fashion, whatever activity you're doing, aim to wear clothing designed for that sport. There are a few essential factors to consider here - is your exercise low or high impact? How much do you anticipate you will be sweating? Do you need to have a large range of movement to perform the exercise correctly and safely? 
Workout gear is designed with its purpose in mind. Much of today's gym clothing is made with compression elements that can facilitate blood flow to the heart and increase circulation. This will help get oxygen to your muscles and will also help to prevent excess movement in specific muscles as it stabilises them, supporting you through your workout.
Although working out is not about how you look, when you feel confident in your workout gear, you're more likely to feel motivated to move. There's nothing better than putting on a brand-new workout outfit. It gets you excited to work out, and it gets you ready to smash those goals. You need to feel good in what you workout in; if you feel uncomfortable or would rather not be seen in your 5-year-old gym shorts, it's hardly going to help inspire you to get up and get moving!
When you're working out, you want your clothing to be lightweight, not to make your muscles feel heavier - It should allow you freedom of movement; you never want to feel uncomfortable or restricted. High-quality workout gear is designed to give you an increased range of motion, allowing you to move to the best of your ability. Look for light, breathable fabrics designed to wick sweat away from the body and regulate your body temperature. Avoid cotton - this absorbs moisture and will weigh you down and not help keep you cool.
We've put together some of our favourite brands that our instructors love and use during their rides. We believe in these brands, they will help you maximise your workouts and look great whilst you do it. 
Contur
We use Contur clothing for a reason. This is a premium activewear brand for those who aren't afraid to be bold. We love the brand's message about inclusivity and embracing your body. Contur is a proudly British brand, just like us, and they make their clothes in their London site -  keeping their carbon footprint as low as possible.
The fabric they use is ECONYL - made from recovering and repurposing old fishing nets and ocean plastics into 100% recycled yarn, perfect for high-performance activewear. This material works naturally with any body shape. It's flexible and supportive - just like us.
Contur is all about self-confidence. Their bold and bright colours make a statement. The brand's effort to minimise waste and strive for sustainability aligns with our ethos, and we feel proud to wear their apparel in our workouts at home and in-studio with you on the bike.
Tiem Athletic
Proper shoes when working out are also equally important. If your trainers or cleats are worn down or bad quality, you run a serious risk of injury (pardon the pun) and will certainly not be maximising the effects of your workouts!
For cycle classes, shoes are a little different. Many riders prefer to clip into their bikes with cleat shoes - you may have seen them before; they are compact and solid shoes with screws fixed to the bottom so you can clip into your bike pedals. Tiem Athletic looked at the cleat shoe and gave it a modern edge - we love them.
Founder Tracey McLeod saw a gap in the market for proper stylish cycling footwear, and she launched the Tiem brand in 2016 with their signature Slipstream indoor cycling shoe. Next time you do a class look out for our instructors wearing them, you'll be dying to get your hands on a pair!
Now we're not advising you to go out and buy yourself a whole new workout wardrobe, but the next time you need a new piece of kit, make sure you do your research and get something that is designed to help you perform your best. Or just take our advice and check out one of these awesome brands...we can't wait to see you on the bike!