< Back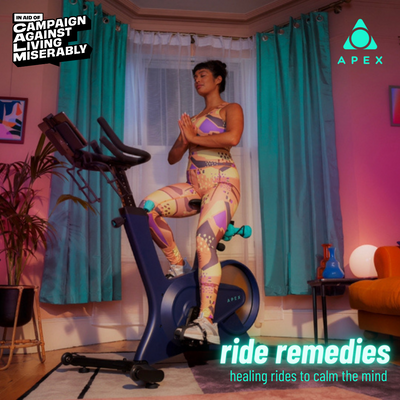 New Release: Ride Remedies. In partnership with the charity CALM
Will Sowerby | 20 Sep 2021
We've got something very exciting to share with you A-Team, our new Ride Remedy Series.
The ways and the whys behind working out have undoubtedly changed over the years. This year, we carried out a survey amongst 500 25-45 year olds asking them why they exercise. The results showed that four in five people workout to boost their mood and lift their emotions. Many now choose what type of exercise they do based on the desired psychological outcome, and 56% exercise to support mental health more today than they did prior to the pandemic. 
We looked at these results and quickly realised that there was more we wanted to offer you, our riders, to help your overall wellbeing - emotional and physical. That's why we've created our new series Ride Remedies.
What To Expect...
These 15 minute sessions have been co-designed by Apex's expert content team and behavioural psychologist Ricky Gill. Each session features a guided meditation led by Ricky, with rhythmic cycling led by Apex instructor, Carol-Ann - delivering you meditation on a bike. 
Set to a captivating, uptime trance beat, each ride offers a different 'remedy' for a specific, emotional state of mind, symptomatic of modern living and designed for everyone. Having trained in neuro-linguistic programming and therapeutic hypnosis, Ricky draws on these practices using the timing of the music and momentum of his voice to encourage 'absorption', to re-frame your mindset, and ultimately to optimise psychological wellbeing in a short space of time. 
These rides provide the different 'emotional gains' people now want from their workouts. Whether you want to overcome anxiety, apathy and stress, or stimulate energy, calm or a positive mentality, there's a Ride Remedy for you. 
Our Remedies...
Dealing with overwhelm -  Remedy any difficult days by reorganising your thoughts and return back to a more focussed, calm and resourceful version of you. 
Manifesting Energy - Remedy those lethargic days. Brighten up and set simple intentions so you can feel energised and more open to what's ahead. 
Decompress your day - Remedy an overburdened mind with this gentle check-in and release anything that isn't serving you well today.
Increase your Self Belief - Remedy any negative feelings and begin to celebrate your uniqueness and positive qualities.
Pre-Performance Booster - Remedy any negative energy that might be preventing you from reaching your performance goals and learn to trust your body to take you to wherever you want to go.
Morning focus builder - Remedy a slow morning, cultivate positive energy and focus your mind so you have an enjoyable and productive day. 
For every ride taken, Apex will donate £1 to CALM Charity. The Campaign Against Living Miserably is a charity dedicated to supporting those struggling with their mental health, and uniting against suicide. They provoke conversation, run life-saving services, and bring people together so they reject living miserably, get help when they need it and don't die by suicide. We're thrilled to be working in collaboration with this charity, we're passionate about helping those who need us most, and are here to unite in the battle against suicide. 
For more information on the charity, or if you or someone you know is struggling with their mental health, head on over to the CALM website: https://www.thecalmzone.net
We're here for you whenever you need us A-Team. Give these Ride Remedies and go and let us know what you think, we can't wait to see you on the bike and shift those moods.