< Back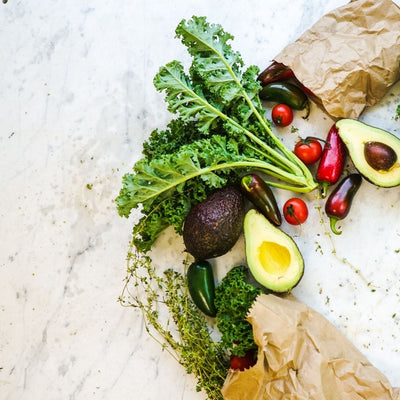 Apex Recipes
Maddy Slade | 15 Nov 2021
Stuck in a rut in the kitchen? We know the feeling. If you're lacking inspiration when it comes to cooking, we've got just the thing. We're sharing some of our favourite hearty and healthy recipes to get you reigniting your passion for food and feeling good.
Healthy Chicken Curry
This healthy alternative to your locals chicken curry is loaded with veg and can easily be frozen for a quick meal when you're too busy to cook.
Cook Time - 40 mins
Equipment required - Food Processor/Blender
Serves - 6
Ingredients - 
Onion 1 large, chopped
1 tbsp of chopped ginger
1 red chilli diced
1/2 tbsp coriander ground
1/2 tbsp cumin ground
1/2 tbsp curry powder
2 red peppers diced
4 chicken breasts diced
1 small cauliflower cut into florets
1 400g tin chopped tomatoes
200 g baby spinach

Method - 
1. Blend the onion, ginger and chilli with a splash of water in a small blender.
2. Tip the mixture into a pan and bring to a simmer
3. Add the spices with a pinch of salt
4. Cook for a minute, then add the peppers, chicken and cauliflower
5. Stir in the curry paste and cook for another five minutes
6. Add the chopped tomatoes, half fill the tin with water and tip into the pan.
7. Simmer for 25 minutes until the chicken is cooked through.
8. Cook for another few minutes if the sauce is too thin, then stir through spinach until wilted. Season and serve in bowls with rice if you fancy something more filling.
Roasted Red Pepper and Tomato Soup
This warming and hearty soup is packed full of vitamin C and is a great immunity boosting option to keep you well through the winter months. 
Prep Time - 45 mins
Serves - 4
Ingredients -
3 red peppers
2 red onions
3 garlic gloves
350g vine tomatoes
400g canned tomatoes
1 vegetable stock cube
2 tbsp creme fraiche
Salt and pepper
Method - 
1. Heat oven to 200C/180C fan/gas 6
2. Cut up the red peppers, onions, garlic and vine tomatoes and place in a roasting tin, drizzle in olive oil and season with salt and pepper.
3. Roast for 25-30 mins, until veg has slightly caramelised.
4. Add roasted veg to a blender with tinned tomatoes.
5. Add stock cube to 350ml of boiling water and stir.
6. Transfer the veg mix to a pan with the stock mixture and bring to a medium heat.
7. Add creme fraiche and stir rapidly to fully dissolve, leave on a low heat for 15-20 mins.
8. Taste and season as required.
9. Add fresh herbs of your choice to garnish ( we love basil or parsley)
Grilled Fish Tacos with Lime Cabbage Slaw and Soured Cream
Great for whipping up dinner parties, fish tacos are always a crowd pleaser. These are light, healthy and easy to make. 
Prep Time - 30 mins
Serves - 4
Ingredients - 
800g cod fillets
1 1/2 tsp chilli powder
1 tsp cumin
1 tsp coriander
2 garlic cloves, finely chopped
3/4 tsp salt
1/2 tsp sugar
1/4 tsp chipotle powder
400g purple cabbage
1 red onion
1/2 cup cilantro
1 jalapeño, finely sliced
1/4 cup lime juice
2 tbsp olice oil
10 corn tortillas
Soured cream to serve
Method -
1. Shred the purple cabbage and toss with salt. Add the onions, cilantro, jalapeño, lime juice, olive oil and mix.
2. Make the spice rub for the fish by mixing the chili powder, cumin, coriander, garlic, salt, sugar, chipotle powder together. Rub onto the fish.
3. Heat up a frying pan with olive oil, pan sear the spice coated fish until golden approx. 2 mins on each side. Once cooked squeeze lime.
4. Slice the fish into small chunks.
5. Serve the fish, soured cream and slaw in separate bowls for a sharing style family dinner.
We hope these recipes will reinspire you to get back into the kitchen and get cooking!