The Apex


Smart Bike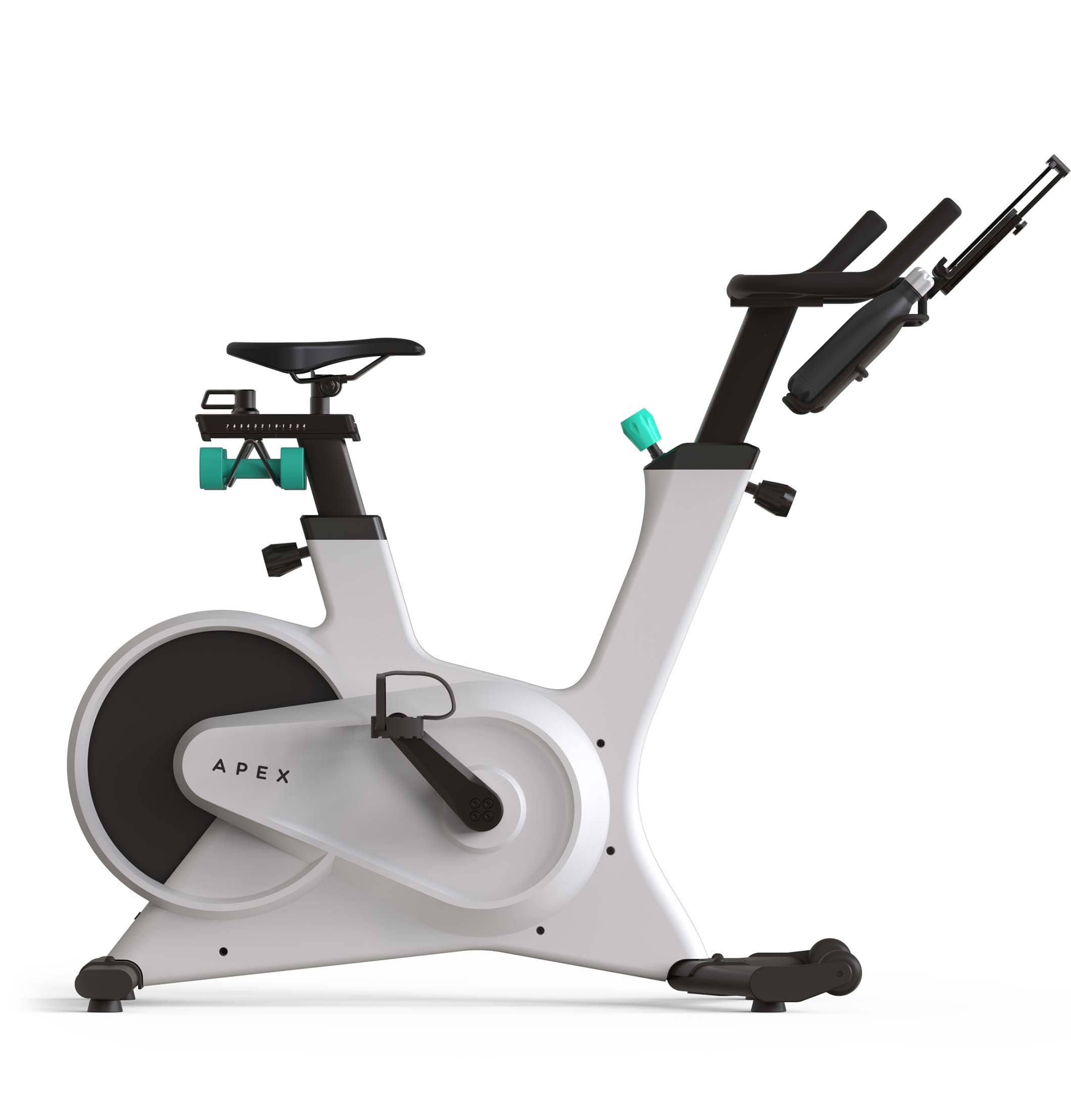 *weights and screen not included
The Apex


Smart Bike

Cutting edge technology, designed for the home.
Explore

the Bike

This is a bike that looks great and performs even better. Ergonomic, compact and comfy as hell. Hop on and enjoy the ride.
Adjustable seat
Allows the user to tailor their 'handlebar reach' position on the bike, achieving a comfortable and safe riding position based on their individual heights and ergonomics.
See full tech specs
Resistance control
Our resistance allows tailored control of resistance up to 30 increments so you have complete control over how you challenge yourself.
See full tech specs
Bluetooth connected
Super fast Bluetooth connection provides real-time telemetry data in-class so you can see your watts output, RPM and resistance level on-screen while you sweat it out.
See full tech specs
Pedals for everyone
Our 50/50 clipless pedals allow beginners the opportunity to start out using their trainers and toe-straps, while the more experienced riders have the ability to clip in with their SPD shoes from the off.
See full tech specs
Enclosed flywheel
Our 4kg enclosed flywheel is light enough to easily move around the home, while providing a smoother ride than traditionally heavy flywheels. Plus no chance of small children or animals coming in to contact with it whilst its spinning.
See full tech specs
Weight holder
Provides quick access to the 2kg weights at the rear of the saddle for use during Apex spin classes and workouts.
See full tech specs
Adjustable tablet holder
Our adjustable tablet holder allows you to secure any iOS tablet device to the bike so you can give it your maximum efforts and make the most of our Apex app available on the App Store.
See full tech specs
Water bottle holder and mobile device contactless charger
Our water bottle holder fits most water bottles and you can charge any mobile device that has contactless charging capability.
See full tech specs
See FAQs
Tech specs
Bike Specification
Footprint
4ft x 2ft
Weight
45kg
Height
4ft
User Height Range
4'10" - 6'.8"
Max User Weight
120kg
Bike Features
Bluetooth Connected
Use your own iPad/iPhone or cast to TV
Secure iPad & iPhone Holder
Phone and Tablet Charging Points
Magnetic Resistance
Protected Flywheel
Shimano Pedals 50/50 for SPD or Trainers
Integrated Bottle Holder
Weights Holder
Wireless Phone Charger
App Details
Only supported on Apple devices - *iOS13 minimum required
Multiple profiles for family use
Best Current Music in variety of genres
Fully Immersive software with in-class gamified features to push you to best of your ability
Stream 100s of classes live and on-demand, anytime
Personalised data and results to track ongoing performance
Real-time in-class leaderboards
Sync with Strava and Apple Health
Subscription
Monthly subscription
£29.99 commencing on date of delivery
The bike that

works for you.
Sweatproof
Advanced non-slip coating so you can get a grip, no matter how hard you're pushing.
Mobile
Plug it in or use it cordless – wherever you ride the Apex bike is designed to fit with you.
Adaptable
Clip-in or throw on your trainers, however you pedal our Shimano 50/50's have you covered.
Designed for homes
not garages
We worked with top British designers to create the first smart bike that syncs with home interiors.
It's ergonomic, compact and available in four colourways.
Minimal

footprint

Who needs yet another expensive, wasteful screen?
Just slot yours into our holder and get riding. There's a handy charging point too.

With front wheels and only 4 x 2 feet in size, the bike can be moved into the cosiest of corners.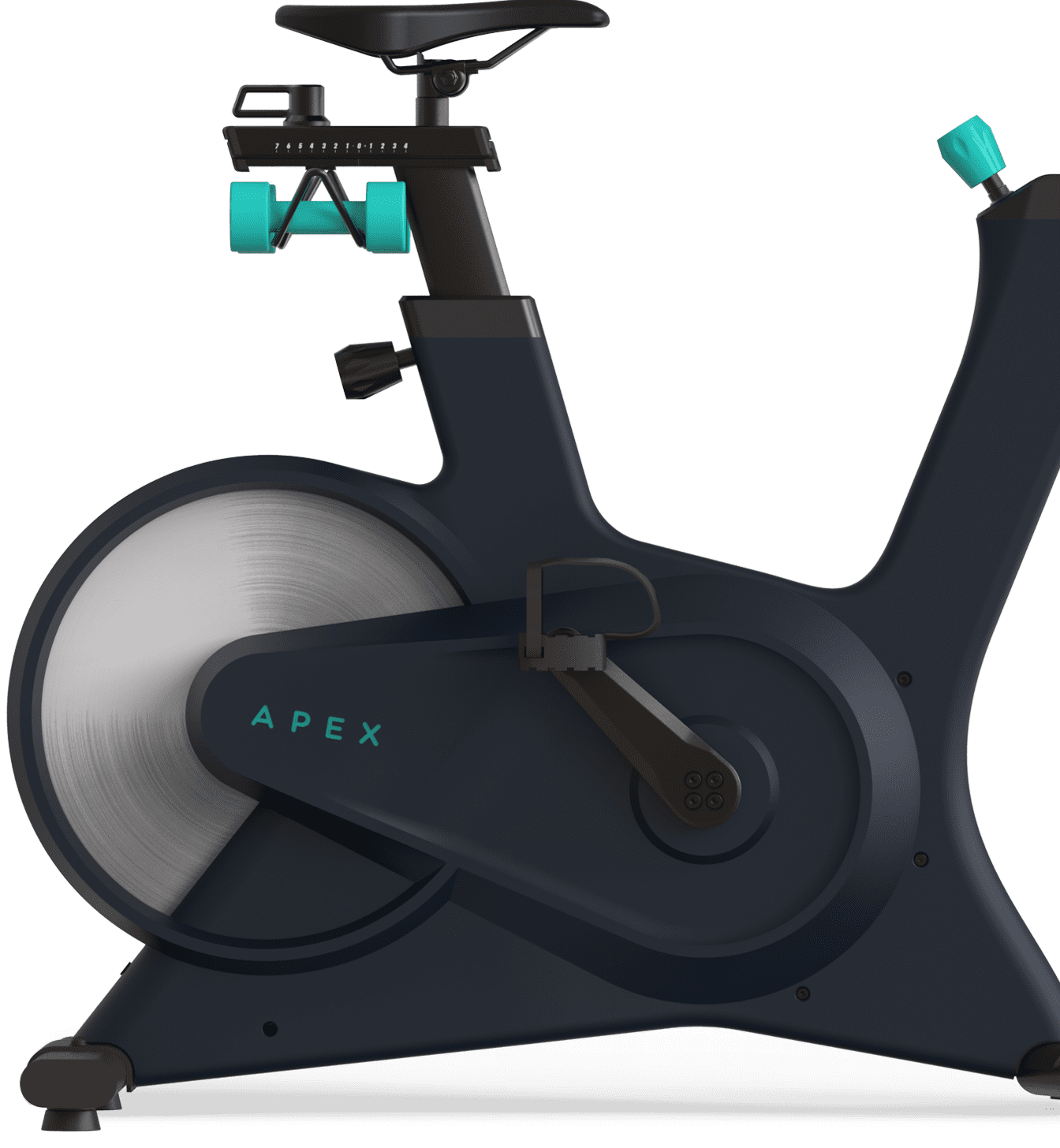 Smart, connected, but simple.
Bluetooth connected and WiFi enabled, all it takes is a couple of taps to sync your device with the bike.